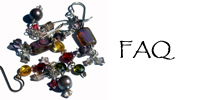 What should I know about my handmade jewelry?
Diva Design's jewelry is designed and handmade with sterling silver, gold-filled (14k gold over base metal) or vermeil (22k gold over sterling silver) for a beautiful piece of jewelry. The life of your jewelry depends not only on the craftsmanship but the care. To prevent tarnish I recommend storing them in airtight containers such as zip lock bags. To maintain the color of stones and other accompaniments avoid storing them in direct sunlight and always put on your jewelry after your cosmetics, perfume and lotions. When your jewelry needs cleaned use a soft polishing cloth and avoid using chemical cleaners, as some stones can be harmed.
What about item availability?
I pick little things up here and there, or make some of the components myself, therefore, most items are one of kind pieces and there is only one in stock. In the event an order is placed for a sold item prior to it being removed from the web site you will be contacted via email. Some items can be created again after they have sold depending on the availability of the components. Again, you will get an email.
Do you have home parties?
Yes I do, girl time yea! Please contact me at info@divadesignjewelry.com for an information packet. Coming soon there will be online parties too! No house guests, shop when you want during a designated 3-5 day period, and great deals for your online attendants.
Do you do custom orders or bridal pieces?
I love to do custom orders!! Working with others to create jewelry that directly reflects their style is a great experience. The same goes for bridal jewelry, whether it is a simple duo of earrings and a necklace for the bride or pieces for all of her bridesmaids to complete the look, it can be done.
What do I need to know about placing an order?
The shopping cart is here! At this time I accept paypal only, my apologies for any inconvenience this causes. If you wish to discuss another payment option please contact me at info@divadesignjewelry.com. Please allow 3-5 days for your order to be processed I will send you and email when that is complete.
What do I need to know about shipping?
Shipping and handling fees are $2.75 for the first item and $0.75 for each additional tiem. Items are packaged in jewelry boxes and shipped in a padded envelope via the post office.
What about returns and warranty information?
I stand behind my jewelry without a doubt. If you are displeased with the jewelry for a reason that cannot be addressed (wanting a different length etc.) feel free to return the unworn item to the return address listed on the original packaging. You must also include the original invoice, and packaging with the returned jewelry. I will refund your purchase excluding shipping and handling fees. I warranty my pieces for one year under normal wear and tare circumstances. If in this time frame a piece breaks I will be happy to fix it at no cost. Please be aware that some components might not be exactly the same as the original but I will do my best.
What about my privacy?
I don't share information with anyone other than myself. No one benefits from sharing personal information. If at any time you would like for your name to be removed from the newsletter or your account deleted contact me at info@divadesignjewelry.com and I will be happy to do so.